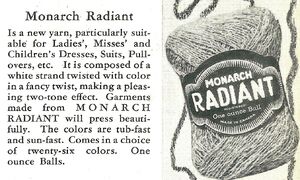 Monarch Radiant (1930s)
Edit
One ounce ball.
New to the Monarch yarn line in 1935.
"Is a new yarn, particularly suitable for Ladies', Misses' and Children's Dresses, Suits, Pullovers, etc.  It is composed of a white strand twisted with color in a fancy twist, making a pleasing two-tone effet.  Garments made from Monarch Radiant will press beautifully.  The colors are tub fast and sun fast.  Comes in a choice of twenty-six colors."
Ad blocker interference detected!
Wikia is a free-to-use site that makes money from advertising. We have a modified experience for viewers using ad blockers

Wikia is not accessible if you've made further modifications. Remove the custom ad blocker rule(s) and the page will load as expected.